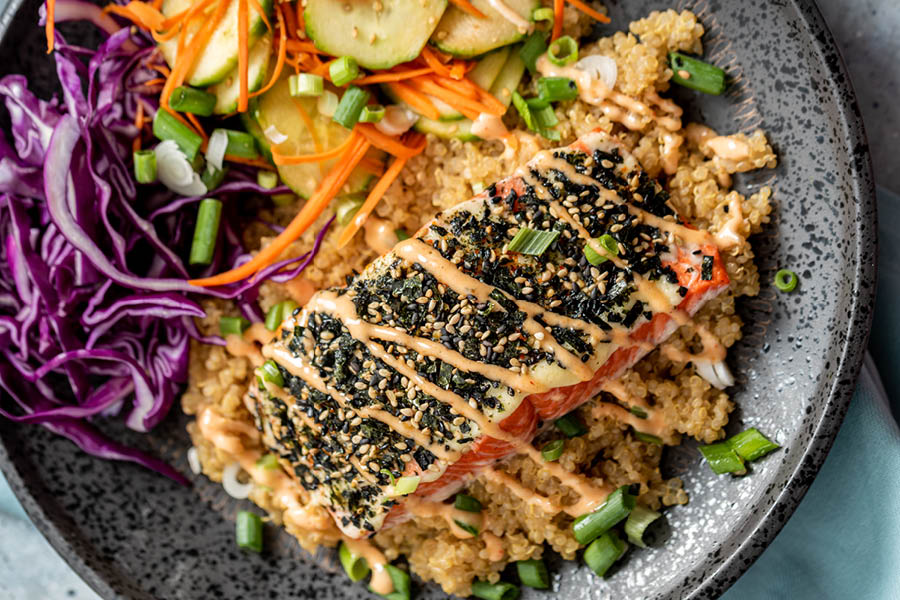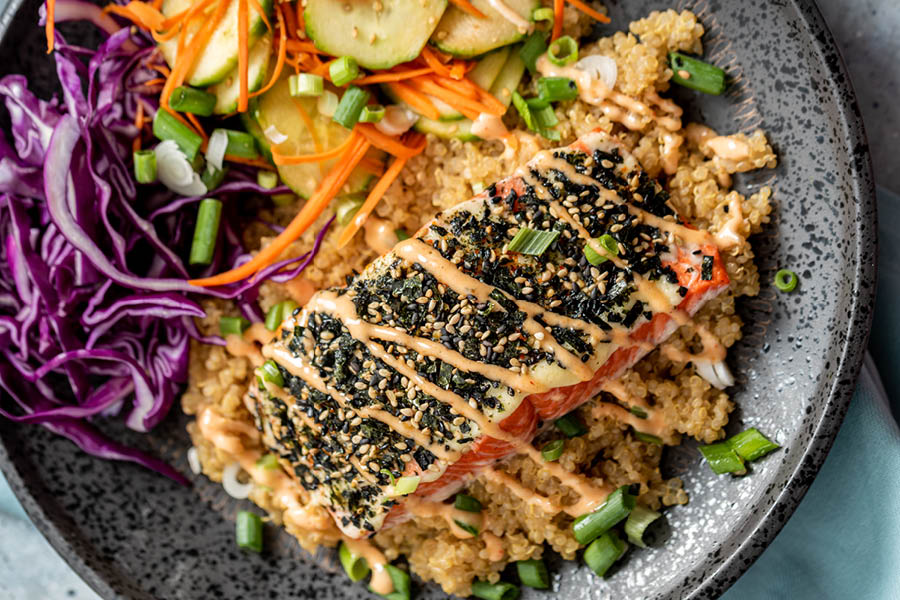 Spicy Furikake Salmon with Quinoa
This fantastic recipe comes from a partnership between our sister-fishery, Prince William Sound Salmon, and the ever-inspiring Shanna Schad! Spicy flavors combine with delectable salmon and the perfect complement of quinoa, for a dish you'll want again and again! 
Check out the recipe on SoundSalmon.org to download the recipe card!
Ingredients
2 lbs Prince William Sound Sockeye Salmon
3 cups chicken or vegetable broth
2 tbsp seasoned rice wine vinegar
2 tsp Tamari or soy sauce
2 cups shredded red cabbage
Instructions
Rinse + drain quinoa, add to medium saucepan with broth, bring to boil then lower to simmer until all liquid absorbed
Peel cucumbers, then wash and thinly slice
Peel and shred carrots, add both carrots and cucumber to bowl with vinegar and tamari or soy sauce, then chill
Cut salmon into 4-6 oz portions, debone, then rinse & dry
Line baking sheet with foil then evenly space portion
Squeeze lemon juice over portions
Mix mayonnaise with Sriracha to desired spiciness
Spread 2 tsp mayonnaise mix on each portion, then sprinkle with furikake 
Bake salmon about 8 minutes, or until opaque and separates easily with a fork
Mix 1/3 cup mayonnaise with 2-3 tsp Sriracha and drizzle over salmon
Fluff quinoa and divide amongst plates, top with salmon
Serve with shredded red cabbage and cucumber + carrot mix